---
Clothing Retailers
Many visitors to HBC have asked about clothing retailers. HBC has decided to compile a list of clothing retailers that stand out among the mass of clothing retailers that normally emerge from a normal internet search. HBC can not endorse specific retailers, but will indicate what makes the following retailers special. In general these are companies that offer classic, traditionally styles clothes or accessories. There are thousands of sources for "T"-shirts, sweatsuits, and baggy trousers on the internet. The companies listed here are a bit more difficult to find as the specialize in classic styles.


Traditional Schoolwear is a U.K. source for traditional school uniforms.


This Slovenian company makes tights for boys and girls. Tights are worn by younger boys in several European countries during the winter.


We are a well-established Manufacturer of Satin and Taffeta labels, Paper Hangtags, Swingtags and other garment trimmings for different apparels. We can assure the best quality with the customer's satisfaction, competitive price and on time delivery.


Stock solutions is the U.K.'s premier source for quality ex-chainstore clothing at unbelievable prices. It is also the U.K.'s specialist in garment processing, pre-retailing, dry cleaning and embroidery services.


A touch of Victorian is a business designed to give that final touch to that special celebration or event you will be hosting. We are here to give you ideas on how to thank and keep memorable that special evening to your invited guests. At A touch of Victorian, we make and help design special mementos, keepsakes, souvenirs, hand crafted invitations and so much more. We help you choose your lettering, colors and styles. We will help you coordinate your Wedding, Sweet Sixteen, Christening, Graduation, Prom, Anniversary Party and so much more. We pay very special attention to detail in every project we take; we also make sure that all our clients are completely satisfied. A Touch of Victorian specializes in the essence of the Victorian era. One of our founders and designers will help you choose the beautiful and delicate lace and ribbons, and the soft colors, sweet scents, special papers, and letterings to best suite your special event. You will be guided through whatever your needs maybe for your unforgettable celebration. (Se Habla Espanol.)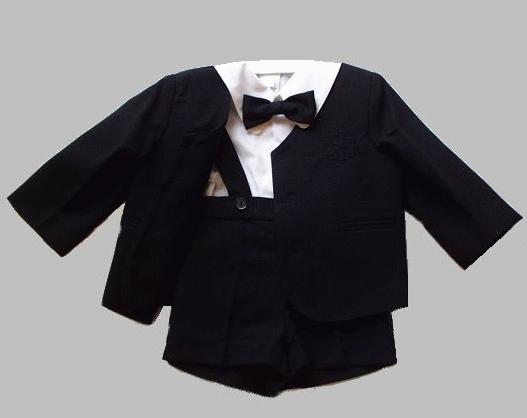 ---
Figure 1.--Eton suits remain a traditional favorite for yonger boys' formal wear. This Eton suit has suspender short pants and is worn with a slhirt with a Peter Pan collar.
DapperLads: A clothing store for boys. Please browse through our store departments. We offer special occasion, holiday & a designers outlet (Regal Wear) , quality sportswear & pajamas (Classic Lads) , fun & durable playclothes (Rogue Wear) , swim and beach wear (Vacation Boys) , suspenders & hats (Accessories) , plus Gifts Sets and Toys. All especially for BOYS. One classic garment offered is the Eton suit. Detail and style are abundant in this classic eton by Royal Boys. The jacket has a black embroidered crest emblem. The shorts are cuffed and have attached suspenders. The short sleeve shirt has a peter pan collar and the bow tie is a full cut. The suit is poly/rayon. Dry clean. NOTE: The older boys eton does NOT have attached suspenders and the shorts are a walking short style- zip front, elastic back, no cuffs.


Haute Paré heirloom creations for special occasions: flower girl, ring bearer, bridesmaid, First Holy Communion, antique reproductions. Boys' wedding apparel: Little Lord Fauntleroy would feel just as proud as Aaron wearing this darling little ensemble. The shirt complements Sydney Ann's dress. Made in Swiss batiste, it features three rows of puffing on the front with a round silk organza collar with Madeira applique and edged with French lace, it has straight short sleeves and buttons onto the knickers with beautiful pearl buttons. The knickers are of silk dupioni, fully lined in cotton with a back fastening (straight leg pants are also available). Available in white/ecru (as shown), white/white Sizes: 2 - 4 years.


Additional Listings
Retailers who offer vintage or traditional clothing and costumes are incouraged to contact HBC and request listing as a link here. HBC readers who know of such a retailer are also incouraged to contact HBC.



---
HBC
Navigate the Historic Boys' Clothing Web Site:
[Introduction] [Chronologies] [Style Index] [Biographies] [Bibliographies] [Contributions]
[Boys' Clothing Home]
Navigate the Historic Boys' Clothing Web chronological pages:
[1880s] [1900s] [1920s] [1930s] [1940s] [1950s]